THANKS FOR YOUR BOOKING.  SEE YOU ON MAY 23RD!
An event as part of St Albans Sustainability Festival 2022 (#Sustfest22) 
9.30am on Monday 23 May 2022 at Lussmanns, St Albans (Waxhouse Gate). 
All proceeds from this event will go to The BEARR Trust to help victims of the war in Ukraine. 
We invite you to Lussmanns St Albans Sustfest 22 panel event, with speakers including:
Andrei Lussmann, Founder, Lussmanns Sustainable Kitchen
Ruby Raut, Founder and CEO, Wuka
Stuart Roberts, Hammonds End Farm, Hertfordshire
And another TBC
They will talk about their businesses, how they got them to where they are today and how they strive to be sustainable.
It's an opportunity to come together and talk about how businesses can be sustainable while fundraising for a great cause.
Tickets cost £15 and include a light breakfast. 
This breakfast has been kindly supported by Andrei Lussmann and his Lussmanns sustainable restaurant group.
BUY TICKETS NOW
Buy tickets now
Choose your quantity:

#Sustfest22
St Albans Sustainability Festival runs from Sunday 15 May to Tuesday 31 May 2022 across St Albans, Harpenden and surrounding villages. The award-winning community festival is all about sustainable living and protecting the environment.
The Sustainability Festival is run by the people of the St Albans City and District – a collaboration of individuals and groups holding dozens of events all over the district, encouraging each other to live with a lighter impact on the planet.
Lussmanns Sustainability Event – Panellists: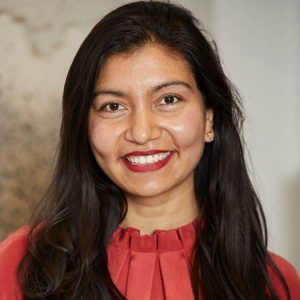 Ruby Raut
Founder and CEO of Wuka, Ruby Raut is an environmental scientist and is listed in the 2019 Top Women in Femtech. She  grew up in Nepal, which inspires her work in making menstruation positive, taboo-free and environmentally-friendly.
In Nepal shame about periods was widespread. Nachune is the Nepalese word for period which basically translates as 'untouchable'. When she started her period, she experienced a form of Chapaudi, now illegal in Nepal.
During menstruation, she was sent to her aunt's house and wasn't allowed to go out in the sun, look at men, or touch plants – as it was believed that she would kill them – just because she was having a period.
Like other girls, she was given old sari rags to use for the bleeding, which happened to be reusable and eco-friendly, but not hygienic. They weren't leak-proof nor comfortable, and didn't work for her when she played sports!
When she arrived in the UK, she was astonished by the wide range of menstrual products available on the shelves, but quickly realised that most of them were neither comfortable nor leak-proof, and they certainly were not eco-friendly. We can see the single-use plastic in tampon applicators, but most of us don't realise that pads are usually made from 80% plastic.
"When studying for my Environmental Science degree, I discovered that more than 200,000 tonnes of tampons and pads were sent to UK landfills every year, contributing to the mounting tide of plastic pollution. This was my 'lightbulb moment'. I knew something had to change about the way we handled menstruation."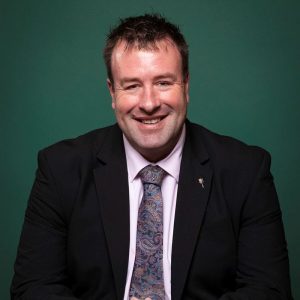 Stuart Roberts
Stuart grew up on Hammonds End farm and was always involved in some way. He and his wife Emma took over the running of the farm from his father Howard in 2012.
Before he returned to the farm full time, he worked at the Ministry of Agriculture Fisheries and Food, the Food Standards Agency and Defra helping the beef industry tackle the threat of BSE. He installed a BSE testing regime and helped the farming industry to improve the way it handles animal disease outbreaks. His experience was in considerable demand and he was brought in to help manage Foot and Mouth in 2007 and the Bluetongue outbreak in 2008. Stuart spent almost a decade I'm the meat processing sector and was instrumental in dealing with yet more industry crises, most notable the horsemeat scandal.
After returning to the farm Stuart became more involved in the National Farmera Union (NFU) in Hertfordshire and from 2018 – 2022 he was one of the three National Officeholders for the Union appearing regular in the National media and in front of parliamentary select committees before stepping down as Deputy President in February this year. Amongst other issues he led the Unions work on Climate Change, Water, Animal Health and Public Access.
Hammonds End employs organic farming methods which means working with nature, and Stuart believes it is critical that food production and caring for the environment work side by side on a modern progressive farm. How he farms is instrumental in addressing his own approach to the big challenges of climate change, biodiversity loss and antibiotic resistance.
As well as his interest in farming Stuart has also spend a long time studying and commenting on other challenges in the food supply chain and will always advocate the importance of short, safe and secure supply chains.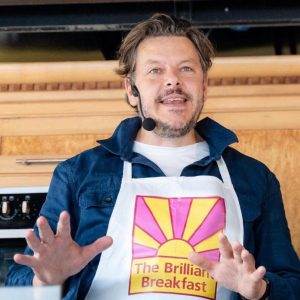 Andrei Lussmann
Lussmanns has a built a trusted brand over 20 years; delivering exceptional food, with excellent service, while committing to ethical values that prioritise the treatment of the planet, and of its staff – winning sustainability awards in the process.
Andrei Lussmann opened his first café in 2002 in Ladbroke Grove and his first restaurant in Hertford in 2004. Its success led on to the opening of three more in Hertfordshire: St Albans, Harpenden and Hitchin.  At the end of 2021 Lussmanns rebranded as Lussmanns Sustainable Kitchen and opened its fifth restaurant, in Berkhamsted.
Lussmanns is founded on the fundamental belief that it's possible to be ethical and profitable while making sustainable dining accessible to everyone, and consistently delivering great food, service and value. The group has won multiple national awards celebrating sustainability, including winning the prestigious Menu of the Year Award in 2019 and 2020 at the Marine Stewardship Council (MSC) Annual Sustainable Forum. The award recognises restaurant menus that have created new, exciting sustainable seafood offerings to UK diners while helping advance consumer awareness about the MSC. Lussmanns is also one of the only restaurant groups currently in the UK to be completely MSC-friendly.
Lussmanns is a founding member of the Sustainable Restaurant Association, and ranks as a 3* restaurant, the highest score possible, audited and accredited by the SRA.
Andrei Lussmann takes a holistic view of sustainability: in addition to ethical food provenance and green energy, he values sustainable waste management practices, giving back to the community and looking after his staff