Current Vacancies
We are currently recruiting in the following locations:
Senior (Sous) Chef – Hitchin – from £34 k + £2.5k bonus per annum (7 shifts per week, 2 days off)
Senior (Sous) Chef – Harpenden – from £34 k + £2.5k bonus per annum (7 shifts per week, 2 days off)
Head Chef – St Albans – £41.5k per annum (7 shifts, 2 days off)

Assistant restaurant manager – Harpenden – £35.5k per annum (6 shifts per week, 2 days off)

Chef de Partie – Harpenden – Full time – £13.67-13.92 per hour
For full details, please search on Indeed or contact Katrina Grant – [email protected].
Current Rates
HOURLY (full training provided)
Kitchen porter – £13.17 per hour
Chef de partie – £13.67-14.42 per hour
Front of house – £18.00-22.00 per hour
SALARY (all overtime is paid)
Senior chef – from £34 k + £2.5k bonus per annum (7 shifts per week, 2 days off)
Head chef – £38k + £3.5k bonus per annum (7 shifts, 2 days off)
Assistant restaurant manager – £32k + £3.5k bonus per annum (6 shifts per week, 2 days off)
Restaurant manager – from £35.5k + £5k bonus per annum (6 shifts per week, 2 days off)
Careers with Lussmanns
Lussmanns is an independent restaurant group. We're small enough to value our staff as individuals, and big enough to help you to develop your career.
We offer flexible hours and extremely competitive pay
A comprehensive induction, regular training and ongoing support
Awards Evening
Staff trips
Complimentary meals during your shift
50% discount when you dine with us
Progression opportunities at all levels. If this is your 1st job in hospitality, you can train through the kitchen or floor/bar up to management. All our salaried staff are paid overtime on top of their contracted shifts.
Our tips policy
A discretionary 12.5% gratuity is applied to our bills. 100% of all gratuities go to staff.
How to apply
We are always interested to hear from experienced staff. If you'd like to work with us, please email your CV to Katrina Grant (
[email protected]
) at any time.
Find out more about Lussmanns
Meet the staff – Csaba Hidvegi
Csaba currently works in Hitchin as Front of house trainer and Supervisor.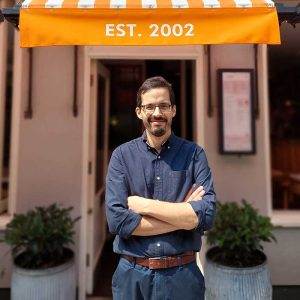 How long have you worked in hospitality for and why?
I`ve been working in hospitality for a good 15 years now. When I started University in England I joined Cote Brasserie, then eventually Zizzi`s, before ending up at Lussmanns in the middle of the pandemic. I always thought that hospitality would be good for practicing my English and for it being the best minimum wage job with potentially high earnings due to service charge / tips and for it being not so monotonous or just sitting behind a counter. Eventually I actually grew to like it as well for it does have an art to it that most people underestimate in my opinion.
What does your normal working day look like?
I wake up and contemplate on the meaning of life with my morning coffee first thing. Then I get ready to work and open the restaurant in either of my roles as a supervisor or waiter. Either way I make sure that the restaurant is in tip top shape for service. During the day I serve people and for a nice change of pace in the evening I serve some more! In between all of this, as my role as head waiter I also get to tell the other waiting team members on how to do their jobs correctly. At the end of the night we close the restaurant.
What do you find challenging about working in restaurants?
Ensuring that the high standards that we are aiming for are carried out by all members of staff. Particularly astonished how difficult polishing is. In recent months I have created a theory that I`ll probably write a paper on how education and socio-economic background directly correlates to the quality of polishing carried out by an individual.
Tell us what you like about working for Lussmanns
The small details in service and the high standards, which sets it apart from other high street restaurants. I enjoy the small gestures of how you present the wine, where you hold the glass, how you clear a table etc. The way we need to address people and our clientele was also something that drew me in. The service style is very similar to what established Hungarian restaurants do, which I always admired when I used to eat out with my family. Finally Lussmanns was the first restaurant where I went above being just a waiter and finding out that I`m relatively good at training and running a restaurant has been a satisfying journey of personal growth.
What is your favourite Lussmanns dish of all time?
I was absolutely mortified when the Chicken Schnitzel came off the menu, but it`s fine as the Pork Schnitzel seems to be overtaking it as my favourite dish.