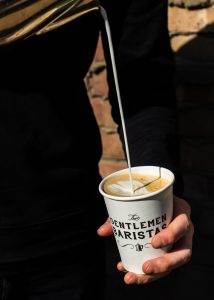 The Gentlemen Baristas
have been working with Lussmanns since 2014, when they launched their roastery alongside their coffee houses. The Gentlemen Baristas coffee houses have become places where people from all over London, from all walks of life, come to meet. They have recaptured the spirit of the coffee houses of old, where manners, service and community are at the heart of the coffee experience.
Committed to serving a superlative cup of coffee, The Gentlemen Baristas are proud to serve a range of blends roasted in their dedicated London roastery and like to work with brands like Lussmanns (we serve their high-grade organic Sumatran Arabica coffee, from Indonesia) who champion sustainability, quality and organic produce wherever possible.
Prizes
1st Prize
A training session at the GB roastery. Why not improve your knowledge of coffee by having a session with The Gentlemen Baristas at the roastery where the Organic Lussmanns arabica roast is actually created. The newly sited Gentlemen Baristas school is situated in the roastery itself in Whitechapel London. Including your very own coffee to be taken away with you.
2nd & 3rd Prize
A months supply of GB coffee. This equates to four bags of 250g, 'ground your way'.
Head over to our social pages now for details on how to enter *
Instagram Facebook
---
You also might like to learn about an exciting collaborative dinner we'll be hosting with Rubies in the Rubble in St Albans on Tuesday 14th May.  Find out more
Congratulations to our Hattie & Flora winners Amelia Barnard, Kate Thain and Paula Sandiford who won a pretty posy from the sustainable floral and décor company.
*Terms & Conditions can be found on the Facebook Page